PRELIMINARY ROUND
REPLAY
Tuesday 2nd September 2008
WROXHAM 3, BLOATERS 0
A fighting first half brought Yarmouth no reward but did see two goals for Wroxham, who scored a third right after the interval to effectively wrap up the tie.
Without Nick Crawley and Scott Woodcock, Yarmouth brought in promising youngster Jake Reed and Liam Bartley. Reed, making his first-ever start for the Bloaters' senior team, showed no nerves or fear and was a livewire up front.
He had a good chance as early as the fifth minute when Stewart Roach won a header from Robert Thornton in the Wroxham goal but put his shot wide of the far post. Bartley had his first chance after ten minutes with a great shot that came back off the 'keeper and rebounded off Gareth Palmer's legs for a goal kick.
The home 'keeper was looking somewhat uncertain, as on Saturday, but all that changed when Wroxham took a 15th minute lead as Paul Cook's header looped over the already-committed Elliot Pride.
Events then took a turn similar to the first match when the Yachtsmen scored again after 24 minutes, Cook, again with a header, escaping his marker and doing the damage, this time from a corner kick.
Could Yarmouth come back again? They certainly had their chances: a Josh Carus 31st minute header back to Thornton was missed by the 'keeper but Reed chasing in could not quite make it, though a corner was won; Roach almost cashed in on another defensive mistake three minutes later but Thornton just got down to smother the ball; and near the interval, Reed had the ball in the back of the Wroxham net after Thornton had dropped it but an offside decision cut short the youngster's celebrations.
Thereafter, things went downhill for the Bloaters; after the interval they were never the same team as the Wroxham midfield took a stranglehold on the game. The third goal was a real killer coming so soon after the restart. The teams had not been back on the field for two minutes when Andy Key unlocked the Bloaters' defence with a corner that was put away by Steven Harley, and that was that.
Key had a superb second half for Wroxham and Yarmouth had little in reply as the home team turned on the style. Yarmouth did bring on Jose Vide but he was given little room to shine by a defence that had tightened up after their loose first half, though he did have perhaps the Bloaters' best shot of the half from a corner though even this went wide.
So, it's the Yachtsmen who go forward to a first round proper meeting with Grantham Town at a ground that has similarities to the Wellesley – it's council-owned and has a running track around the pitch! But at least Yarmouth got to play three games in this year's FA Cup – that's two more than in any season since 2004.
Kevin Cruickshank commented: "We were punished for our mistakes in both games and we did not capitalise on their mistakes and you need that bit of lady luck to change a game, Jake's offside goal for instance, but that's football. Wroxham did not create their goals but punished our poor play and mistakes. Paul and I told the players to use this experience as a yardstick: they now know the level they will all have to attain to beat teams like Wroxham. Their midfield three impressed me with their movement and how quickly they moved the ball around the park without giving it away. The players were totally gutted after the game they know they could have done better but good teams impose their games onto you we have a young squad (average age 20) who I am confident will get better and better as we progress through the season. Jake did well and is certainly one for the future but Spud was our man of the match for Yarmouth."
Yarmouth – 1 Elliot Pride, 2 Adam Sewell, 3 Olly Savage, 4 Gareth Palmer (12 Toby Gorbould 60), 5 Adey Ager, 6 Alan Darby, 7 Darren Lamb, 8 Adam Sullivan (c), 9 Stewart Roach, 10 Jake Reed (15 Jose Vide 67) 11 Liam Bartley (14 Mark Thompson 58). Unused subs: 16 Fernando Vide, 17 Michael Hilton.
Referee – N Phillips (Ely)
Attendance - 205
PRELIMINARY ROUND
Saturday 30th August 2008
BLOATERS 2, WROXHAM 2
Bloaters – 1 Elliot Pride, 2 Adam Sewell, 3 Olly Savage, 4 Gareth Palmer, 5 Adey Ager, 6 Alan Darby, 7 Darren Lamb, 8 Adam Sullivan (c), 9 Stewart Roach, 10 Nick Crawley, 11 Scott Woodcock.
Substitutes: 12 Toby Gorbould, 14 Mark Thompson, 15 Liam Bartley, 16 Jake Reed, 17 Michael Hilton.
Wroxham – 1 Robert Thornton, 2 Sam Goff, 3 Shaun Howes, 4 Graham Challen (c), 5 Damien Hilton, 6 Andy Key, 7 Daniel White, 8 Gavin Lemmon, 9 Gavin Crane, 10 Alex Notman, 11 Gary Gilmore.
Substitutes: 12 Steven Harley, 14 Paul Cook, 15 Josh Carus, 16 Colin Wines, 17 Andy Jackson.
Referee – N Phillips (Ely)
Yarmouth made the first change to their starting line-up this season, Gareth Palmer replacing Dominic Smith who picked up an ankle injury in the midweek Youth game.
This eagerly-awaited FA Cup tie took pace in burning sun and sweltering heat. Wroxham showed first and after dominating early play the Yachtsmen went ahead after only seven minutes. Notman's pass from the left to former Bloater Gilmore on the right was returned to the unmarked Notman in the area and his shot from six yards beat the advancing Pride.
Lamb's attempted reply for Yarmouth was headed away by Challen, and then a long shot from Sullivan was collected calmly by Thornton, another ex-Bloater. Sewell contributed to that move and his next contribution was a shot that went out for a corner off yet another former Wellesley-ite Andy Key.
Yarmouth the underdogs were giving a good account of themselves, despite playing a different system devised for this game, and Woodcock had a chance from a big Pride clearance but blasted his shot over the bar with Roach awaiting a pass.
However, another error gifted Wroxham a second goal after 22 minutes. A corner from the left fell to the near post, Pride failed to make a clean catch and player-manager Hilton made sure from two yards.
It now looked a tall mountain to climb but this Yarmouth side is nothing if not resilient and Roach showed his experience with a good, clean tackle to pass to Woodcock but his ball to Crawley, steaming into the area, was just too strong.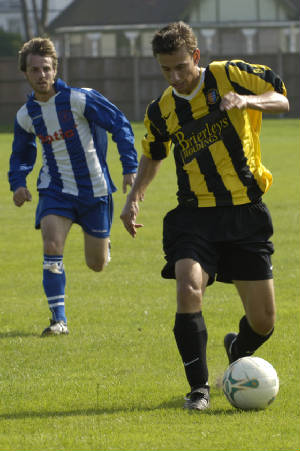 Nick Crawley in his last appearance - for now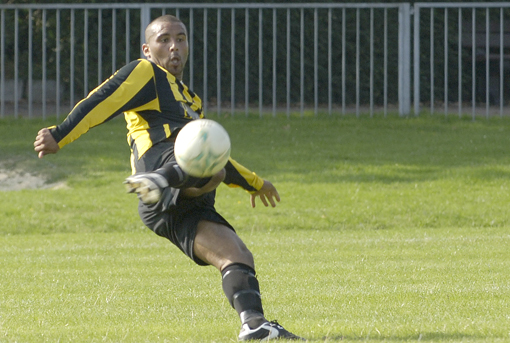 Roach starts the fight-back with his 35th minute goal strike!
Yarmouth had steadied the ship and now competed equally with their illustrious opponents. They shook the visitors with a two-goal burst to draw level. After 35 minutes, Challen headed a centre away from his goal but only as far as Roach, about 12 yards out, and Roach lashed the ball back and past Thornton to begin the fight-back.
Two minutes later, Woodcock took a corner on the left and as the ball fell towards the back post the Yachtsmen's defence was found all at sea and Ager knocked the ball home by the foot of the post. It was the central defender's second goal of the season and he may never score a more important one. Near half time, Yarmouth attacked again and a throw-in went close via Ager's head and Roach's boot.
HT 2-2
Wroxham began the second period with a flurry of attacks but a superb tackle by Ager halted the first, the defensive wall blocked the second, a Key free kick, and Palmer headed away a third. Yarmouth got away after this clearance through Crawley who cleverly evaded a tackle to lift the ball goalwards but Thornton made an interception by the far post.
Woodcock aimed a 40-yard free kick direct at goal but this fell harmlessly wide before Palmer went close with a just-too-high header. As the heat began to take its toll, substitutions were made, Harley coming on for Wroxham and Yarmouth's Bartley replacing Woodcock who left to warm applause in the 65th minute.
A great Savage header set up another Home attack and from Sewell's ensuing throw into the area. Roach nodded back down to Lamb but his shot from the edge of the area was too high. Notman took a free kick 20 yards out at the other end and the ball came back off the face of the bar to substitute Harley whose header was well taken by Pride moving to his right.
Ager was booked for a foul before Notman was replaced by Cook after 75 minutes. The game was boiling up to a close finish with both teams, despite the relentless heat, going for a winner, and Yarmouth appeared to be lasting the pace the better.
Gilmore was always a threat with his sudden changes of pace and a piece of magic led to a cross that was, however, cleared with an easy header. Crawley beat two close markers, then a third opponent and made ground down the left only for his attempted cross to Roach being claimed by Thornton.
Nick Crawley was playing his last game for Yarmouth for the present, having taken a new job in Guernsey, but as he left the field in the 87th minute the home supporters in the 190 crowd were on their feet again, giving him a standing ovation, grateful for his contribution to the club's recent improvement. Jake Reed replaced.
Wroxham came back and Key was dangerous with a shot and a late corner but both ended up wide, and the teams must replay on Tuesday.
Wroxham manager Damian Hilton was naturally disappointed with the result but credited Yarmouth for their fight-back. "They dug in, raised their game and had a little bit of quality in Roachy to get back in it. But we're still in the hat and will be in more familiar surroundings in Tuesday's replay. However, it's still going to be another hard game."
Yarmouth joint-boss Tong thought his team had given Wroxham too much respect early on. "We got punished for two early mistakes to go two-nil behind and many teams would have folded but there's a lot of character in these Yarmouth players and to be fair they got themselves out of the mess."
EXTRA-PRELIMINARY ROUND
Saturday 16th August 2008
HADLEIGH UNITED 0, BLOATERS 1
Summer signing Adey Ager scored his first goal for Great Yarmouth to take the Bloaters into the Preliminary Round at home to Wroxham on 30th of the month.
The goal came after 82 minutes from a free kick. Adam Sewell played the kick from the right-hand side across to Ager on the left-hand edge on the penalty area from where the former Norwich United man struck a fierce shot that looked to have been covered by the home stopper but somehow the ball got past the 'keeper, who did get one hand on it, and into the net.
It was no more than Yarmouth deserved after making, though missing, chances and for a fine defensive display in which Alan Darby and Ager were dominant, reports Arthur Fisk.
Hadleigh pressed strongly after that but to no avail, though last season's leading scorer Payne looked sharp and always a threat.
Elliot Pride made a magnificent save in the first half to again earn his place after a Darby clearance was sent back in by Crawford, the young 'keeper clawing the ball round a post.
Nick Crawley had several chances and Dominic Smith was superb; there was little to fault about the Yarmouth performance which drew praise from the home officials. In return, Yarmouth complimented Hadleigh on a great playing surface.
All in all, Yarmouth thoroughly deserved the win against a very good side.
Team – 1 Elliot Pride, 2 Adam Sewell, 3 Olly Savage, 4 Dominic Smith, 5 Ady Ager, 6 Alan Darby, 7 Darren Lamb (12 Gareth Palmer, 84), 8 Adam Sullivan (c), 9 Stewart Roach, 10 Nick Crawley, 11 Scott Woodcock (15 Liam Bartley, 75). Unused subs: 14 Jose Vide, 16 Mark Thompson, 17 Michael Hilton.
Referee - A Rayner
Attendance - 118
REFLECTIONS ON THE GAME

Last week's win made it two out of two for the Bloaters, with no goals conceded. It's a rare feat, as the last time Yarmouth won their two opening games was six seasons ago, 2002-03, as then-manager Paul Tong well remembers (and they were also two clean sheets), but the occasion prior to that goes back 25 years to the Bill Punton days and before that you have to delve deep into the club's history to the 1920s!

Of Saturday's match, Kevin Cruickshank said: "It was another pleasing overall team performance although there is still room for improvement in certain areas."

However, he is not getting carried away with the team's early successes: "There is a long hard season ahead and we have only played two games. Paul and I will take one game at a time and prepare all the players positively for the next game."

Tong was also realistic in his assessment: "We didn't play as well in midfield as I feel we could and we didn't put away our chances. But we bossed the second half and our defence was very tight - another clean sheet was very pleasing. It was perhaps a fortuitous free kick that led to the goal but over a season you get some, you lose some, so yes a marvellous result!"

Relishing the prospect of the match with Wroxham, long-time top dogs in the Ridgeons League, Tong said the team are looking forward to it: "It will give the boys an opportunity to see what they have to aspire to. Wroxham have been a formidable team for over a decade now and it will be great for us to pit our wits against such a good squad."